Important information for all our customers → Find out more

FREE DELIVERY ON UK ORDERS OVER £50 - Terms apply
ENJOY TAX FREE SHOPPING ON INTERNATIONAL ORDERS
Currently in the hands of the third generation of the Harvie and Hudsons and being the sole remaining family owned shirtmakers on Jermyn Street; we are very proud of our heritage. So it is only appropriate that we begin our Off the Cuff interviews - where we discuss style inspiration, go-to pieces and of course, what makes Harvie and Hudson stand out from the crowd - with none other than Mr. Harvie, the Managing Director of Harvie and Hudson.
Between spending his time overseeing the general running of the business and constructing a plan for future season's buy, Mr. Harvie has an extremely busy schedule and is in constant demand. Fittingly conducting our interview in the Boardroom when he had a few spare moments, Mr. Richard Harvie was sporting one of our best selling printed ties with a Blue Gingham shirt and a classic Navy Suit.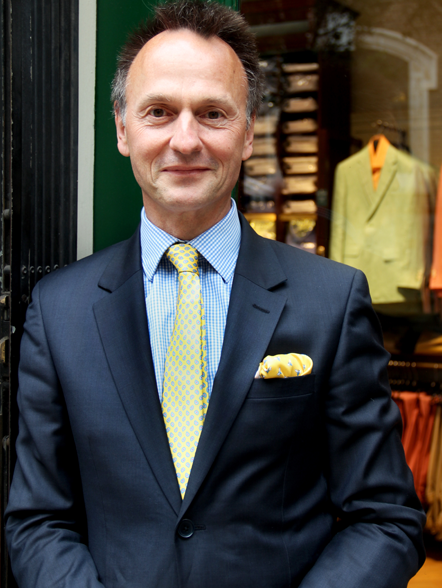 How do you like to shop, Mr. Harvie?
When it comes to clothing, I like to test the waters by physically going to a store to examine the clothing, experience the service and presentation. I like to make sure that the garment is constructed as well as it looks. Once I have tried the garment on for cut and I am satisfied with the fit, I will buy the item to wash and wear. If I cannot get to the store, I tend to buy the item online.
What's your favourite piece Mr. Harvie, in the Spring Summer collection?
I really like the Linen, especially the Navy Linen Unstructured Jacket - it works well with the bright Orange Cotton Trousers. To finish off, I like to pair it with one of the new Italian Linen shirts - either blue or white. If you add a nice bright silk handkerchief, it will really complete the look.
Mr. Harvie, Where do you draw inspiration from when creating each season collection?
My research is largely done either here - in Jermyn Street, at LCM (London Collections Men), or in Italian shows and of course, just keeping my eyes open in the London area. There is a lot of inspiration here, and let's face it - we are in the hub of London's Menswear so I only have to walk out and soak it up!
I like to use luxury fabrics with high-quality English style tailoring, taking inspiration from Saville Row. I have grown up here, from the stock room to the cutting room, and then the sales floor, to the boardroom. These areas of London are incredibly rich with history and innovation. I can't help but be inspired and I find it more interesting every year.
What makes Harvie and Hudson stand out from its competitors?
We have a heritage and continuity second to none here in Jermyn Street. It means that we don't ever forget how important the product is and how it has been made. A piece of clothing is only as good as the quality of its parts. The linings, buttons, fabric and stitching all have to be high quality. If any of these fail the piece has no integrity. It is tempting to use poor buttons to save a few pounds but we feel these shortcuts would be noticed every day we wear them and ultimately, it brings down the quality of the shirt, not only in style but in wear.
Our background is shirt making and we pride ourselves in constructing shirts that are both premium and long-lasting. In the earlier years of Harvie and Hudson, our focus was on plain shirts. Later we became known for our signature bold stripes that were designed in-house. Now, fashion has evolved and it is all about bold colours and textures. We have a fascination for the trade, rooted in shirt making and surrounded by sartorial elegance. We concentrate on the whole outfit, evolving our brand in tandem with the industry and demand.
Men have become more stylish and sophisticated - they are not afraid to show off. If you walk around our store, you will notice that the whole room has been "wardrobed" so it's easy to put a look together - as everything was designed to work together. We also have sales people who for the most part have 30 years plus of experience each.
How would you define your sense of style, Mr. Harvie?
For business, I like a clean cut slim silhouette. My go-to outfit would be our Navy Winchester Slim-Fit Suit and a Pink Graph Check Slim-Fit Shirt. I love to accessorise with printed ties due to their variety of great colours and playful designs and a handkerchief (never matching as too contrived). When it comes to cufflinks, I prefer a simple metal knot or enamel over something novelty. For casual, my preferential attire would be a plain soft Slim Blazer-Style Sports Jacket with a Linen Shirt, Cotton Trousers or a good pair of Jeans - and always a Cotton or Silk Handkerchief to lift up.
Who is your fashion icon?
At this moment, it is Eddie Redmayne, if we are looking into history Bryan Ferry and before that Cary Grant.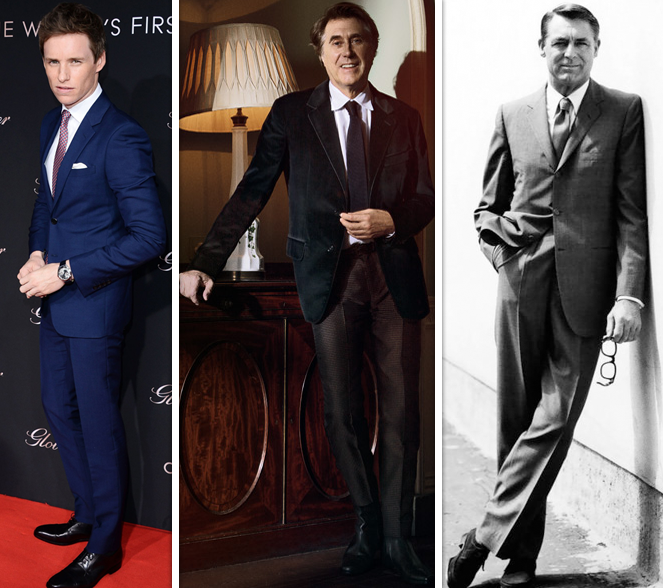 What's your go-to wardrobe piece?
Our new Albini Linen shirt in Indigo Blue and the Turquoise - the linen is fabulous, and when washed they feel even more amazing.
Being one of the only family-run businesses of Jermyn Street for over sixty years – what's the secret to your success?
Tenacity and energy; having a respect for the past but an excitement for the future of menswear. We genuinely love what we do, and want to carry on doing it and doing it well. We think we genuinely we provide great garments, with deep knowledgable and great service. I would say the shopping experience is second to none.