FREE UK DELIVERY WHEN YOU SPEND OVER £150
- Terms apply
ENJOY UK VAT TAX FREE SHOPPING ON INTERNATIONAL ORDERS INCLUDING EU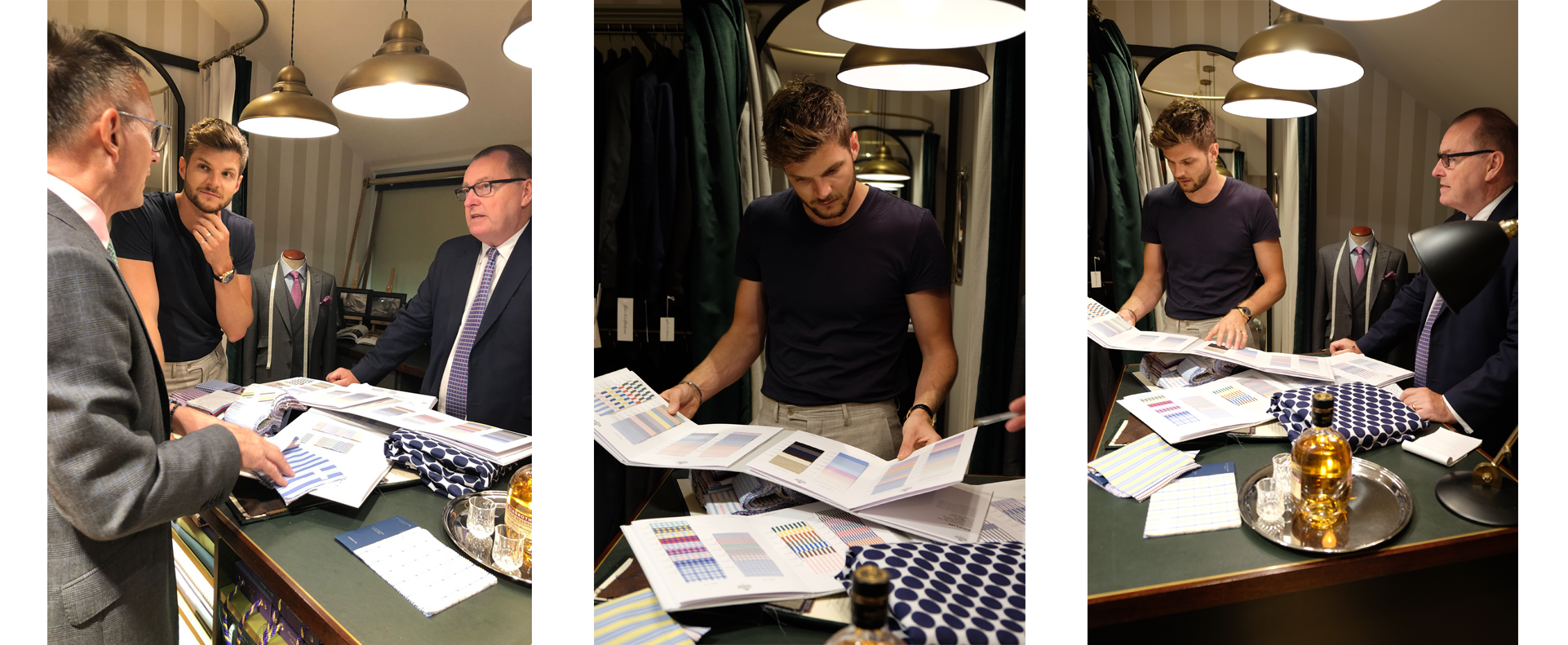 THE POWER OF BESPOKE

We had the privilege of welcoming one of Youtube's most influential fashion bloggers, James Alfred Chapman (AKA Jim Chapman). He holds over 2 million subscribers on his channel, 2.4 million twitter followers and 2.1 million Instagram admirers. This has made Jim a leading voice in men's fashion.

We were delighted to hear when Jim Chapman wanted to collaborate with us in creating luxurious bespoke shirts for himself. At Harvie and Hudson we strongly believe in offering an exceptional bespoke service to all our customers. Jim's creative talent and Kerry's impeccable knowledge on bespoke shirts formed three unique and attractive shirts with a perfect fit for Jim.

Jim enjoyed every aspect of the process, from selecting his pattern and choosing his fabric to receiving the finished product. Recently, he was seen wearing one of his Shirts to a Youtube conference.

Scroll down to watch our interview with Jim, as we discuss all things Bespoke.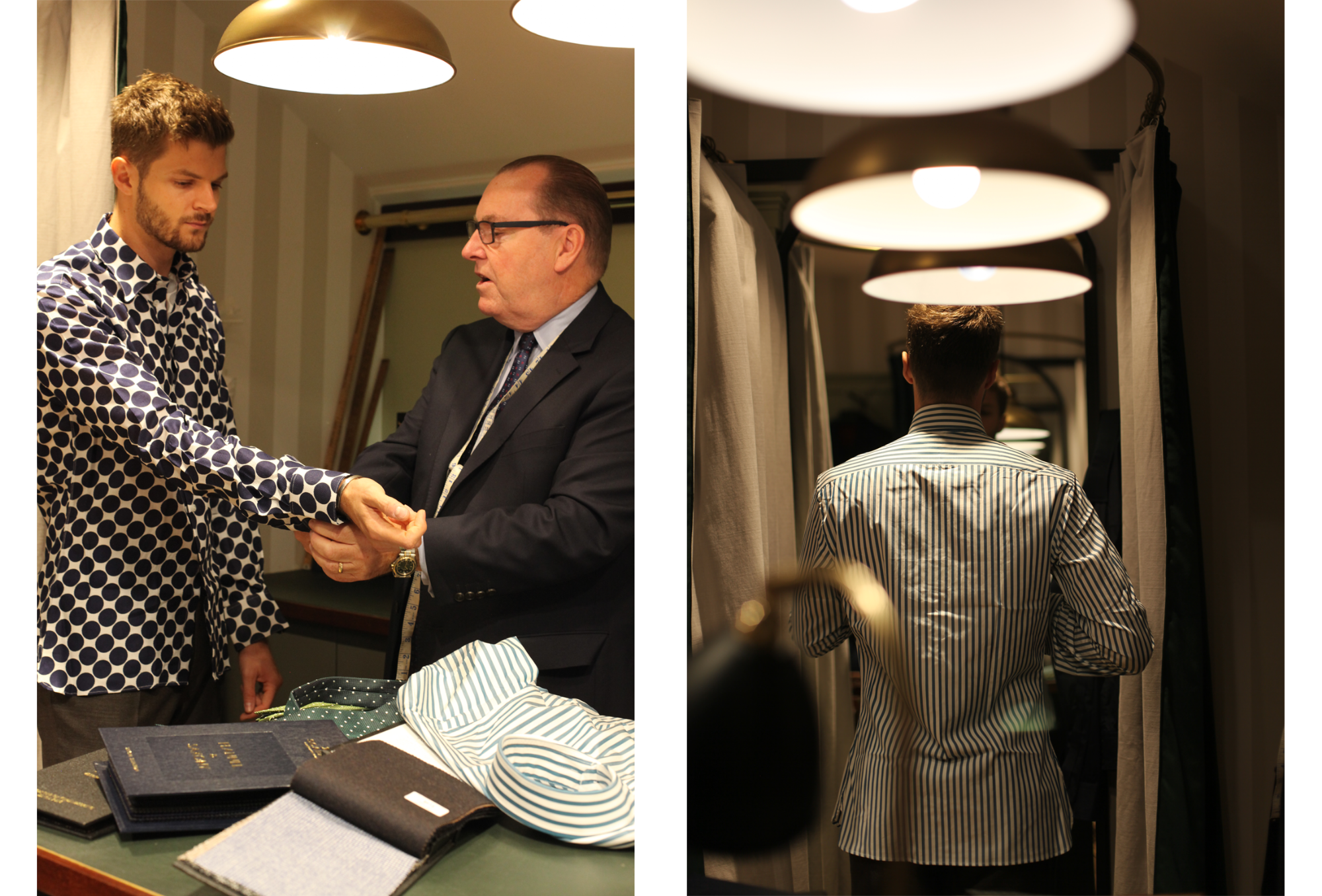 ---

INTERVIEW WITH RICHARD HARVIE

We caught up with Mr. Harvie to discuss the opportunity to work with Jim Chapman on his Bespoke Shirts with our Head Shirt Cutter, Kerry Ford. Harvie and Hudson have been making Bespoke shirts since 1949, starting with the original White 100% 2 fold Cotton Shirt. Expanding to more outlandish stripes later on inspired from flamboyant pyjama material, we captured the attention of Jermyn Street, creating something of a revolution by taking a risk to develop our range outside of the traditional White and Blue.
1. When did you first meet Jim Chapman?
A: The first time I met him was at the London Fashion Week Men's Catwalk event on our very own Jermyn Street a few years back. He was very approachable and interested in fashion.

2. What do you like about his fashion style?
A: I like the way he blends classic and modern styles together – I think the fashion designers take inspiration from us and we learn to break a few rules from them. Jim is the embodiment of that cross over. Fashion should never be a museum piece – it evolves.

3. Why did you want to work with Jim Chapman?
A: I like his easy-going approach to blogging and his authenticity. He understands quality and luxury with a youthful twist. He gets the concept of quality and "cost per wear" not "wear and throw".

4. How was it working with him?
A: Jim was very easy to work with and he is unpretentious. He genuinely likes being part of the process and enjoys and appreciates craftsmanship.

5. Why Bespoke Shirts?
A: He has a good physique which sometimes does not work well with off the rack, especially shoulders, high neck and long sleeves – we think we nailed it – but you better ask him!

6. What is your favourite part of the shirt-making process?
A: Seeing the smile when we fit someone who has never been able to get what they always wanted, or get something to fit perfectly. We often have a single malt to celebrate (provided by Berry Bros. & Rudd of course), it's very satisfying.
7. What is your ideal shirt?
A: A luxurious silky cotton shirt that fits perfectly with a collar that stands especially without a tie, and that sits beautifully inside the jacket lapel – with premium grade A MOP buttons of course – the icing on the cake – I think less is more.

8. What is the difference between Made to Measure and Bespoke?
A: MTM is a clever combination of already ready existing patterns put together with a choice fabrics and options. Bespoke captures many more measurements involving an experienced fitters eye and cutting skills to create an individual pattern formed specifically for the customer. Any option is possible. You name a design, we can make it.

9. Are you an avid wearer of Bespoke Shirts yourself?
A: I love to wear bespoke because of its versatility and individuality. I get great pleasure in knowing it looks great and is the only one in the room/world! It also last for years and if I really love it, I can remake it, or even better, refit it to bring it back to new. it's not throw away, it's true sustainability.

10. Why would you encourage more gentlemen to get bespoke shirts?
A: I liken the experience to comparing a good mass production car to an Aston Martin. They both work very well but the Aston is pure luxury, and it's an experience to savour. The ultimate treat and a great amount of fun.


To find out what Jim thought about his Bespoke journey, take a moment to watch the video below.

We'd love to hear your thoughts. Are you a lover of Bespoke, or have you not had the opportunity to start your journey yet?
Explore more:
Interviews
,
Mens
,
Store
,
Bespoke
|
Mr. Harvie
,
Shirts
,
Store
,
Business
,
Updates
,
Bespoke
,
Brand
,
Interviews
Leave your comment
Your email address will not be pulbished. Required fields are marked*