- FREE UK DELIVERY NOW ON ALL ORDERS OVER £125 -
Blue Bengal Stripe Button Cuff Shirt
Product Details
Cut in a traditional classic fit, this blue bengal stripe shirt has a more streamlined silhouette. It's made from luxury two-fold 100% cotton poplin with the finest quality lining providing a crisp collar and impeccable cuffs. Our signature Mother of Pearl buttons provide the perfect finishing touch. Pair with a Harvie and Hudson suit, to complete your look.

All our shirts are produced in limited quantities, and milled exclusively for Harvie and Hudson, encompassing the quality and exclusive design behind the Harvie and Hudson brand.

Harvie and Hudson is the only remaining family run shirtmaker still on Jermyn Street. Since 1949 we have been making bespoke shirts from the finest cloths and, in the 1960ãs, originated the vogue for bold stripes by making a shirt from pyjama fabric. We value craftsmanship, detailing, style and heritage. Only mother of pearl buttons are used.
Every Harvie and Hudson piece is carefully constructed with attention to detail and created to last.

For longer use of your product, please follow the below recommended instructions:
Wash at 40 degrees
We offer you the opportunity to return your item for a refund within 14 working days from the date you recieved it. We also have information on returns timescales, faulty items and when you can expect your refund to be processed.
Please note: To exchange an item, please return it to our department and place a new order.
Below is our UK delivery options: Click & Collect - FREE
2-5 working days. Express Delivery - £6.50
1-3 working days Saturday Delivery - £10.50
Order before Friday 3pm. To find out more about our available delivery methods such as our overseas options, pricing and timescales, please refer to our delivery page where you can find out all available options, along with all other delivery related questions.
For more information, please see our Delivery Section >
Have you got a question for us? Check if this has already been answered in our FAQ section.

You can find out more about what kinds of payments we accept, information on duties and taxes, click and collect and much more.

If your question has not been answered in our FAQ, feel free to use the contact form and someone will assist you with your query.
View our FAQ's >
For more information about our sizing, and how to measure, view the link below:
Size Guide
Blue Bengal Stripe Button Cuff Shirt
By
John Francis Moss
, 15 Sep 2017
Excellent material, excellent cut, and for me (short arms, deep pockets - some would say...) the option of choosing a sleeve length as well as collar size means I first turn to Harvie and Hudson when looking for shirts. I admit my last purchase was in their sale, but I have bought plenty of their shirts at full price and they are excellent value - the shirts are really hard-wearing. Feel free to buy on-line: their sizes are accurate, and the delivery prompt
Explore The Detail
Every component of a Harvie and Hudson item is expertly crafted with superb attention to quality and detail. Created with the technical skill only a shirtmaker could have, with unique specifications in mind.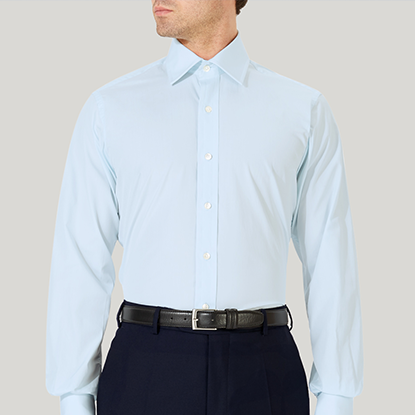 Classic Fit
Designed with comfort in mind, the Classic Fit is a generous cut in a traditional Jermyn Street silhouette. It features a long tail, for tucking into trousers.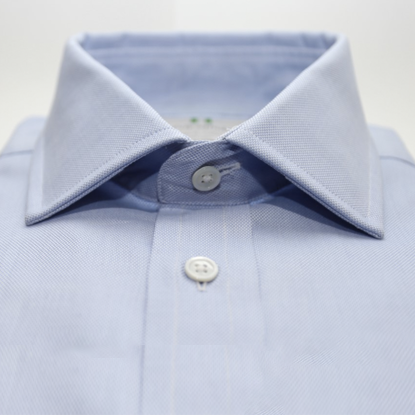 Kent Collar
Named after the Duke of Kent, this is a traditional collar exemplifying the classic Jermyn Street look we are known for. Its semi-cutaway nature is the perfect shape to sit a variety of tie knots, with its elegant structure flattering the neck of any modern gentleman.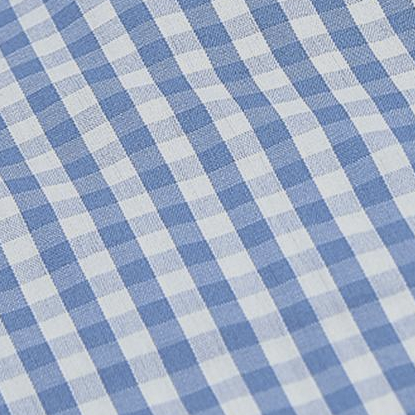 Poplin Weave
Plain weave fabric, woven in a criss cross pattern for a thin and smooth finish that is popular with traditional business shirts, for its lightweight nature.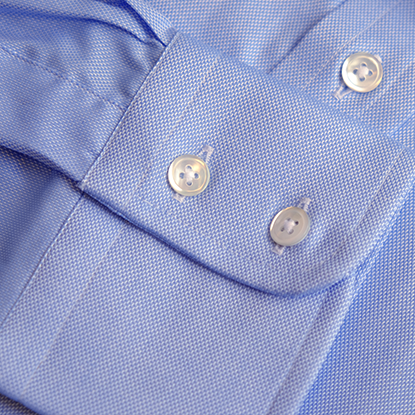 Button Cuff
A Rounded edge, two Button cuff with a sturdy cotton lining, and luxury mother of pearl button detailing. This style of cuff is transitional and works well for both casual and smart attire.
Mr. Harvie Recommends
More Like This
Recently Viewed