Important information for all our customers → Find out more

FREE DELIVERY ON UK ORDERS OVER £50 - Terms apply | USA DELIVERY £15 ONLY - ENDS 21ST AUG
ENJOY TAX FREE SHOPPING ON INTERNATIONAL ORDERS
This week, we caught up with our eCommerce and Markeing Manager for a little insight on what goes on behind the scenes at the H&H web office. Becky is the head of the powerhouse that is the eCommerce department, and is responsible for all things web and marketing related - from creating strategies to bring the online business forward, to coordinating the launch of our brand new site. She also oversees the dispatch team along with the creative team who work on the day to day marketing such as our regular newsletter.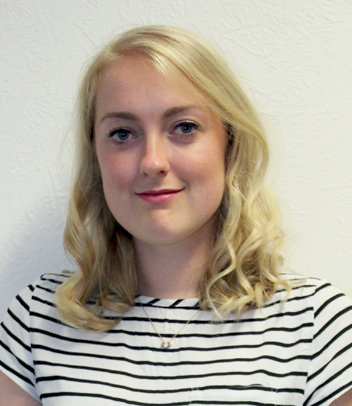 What can you tell us about the new site?
We've developed a site that can be browsed and shopped across multi device. The experience not just cross device is seamless, the design is modern, but we've tried to maintain as much heritage as possible. The real focal point is the artwork and imagery, and inline functionality.
What was the inspiration behind the new interface?
We wanted to combine both the instore and online experience. We have been on Jermyn street for over 65 years, so the aim was to capture our wonderful heritage and classic collection and translate that into a modern online store.
What attracted you to the world of eCommerce?
I loved fashion…but I lacked artistic talent! Ha-ha. The beauty of eCommerce is everyday really is different, from styling and shooting fashion campaigns to organizing figures to planning customer online journeys. It's wonderfully diverse, and that's what keeps it exciting, and often on your toes.
Can you tell us what to expect from Harvie and Hudson online in the near future?
The website has been a terrific platform to elevate our brand, like most things, the new site is just the start, we're investing in marketing activity and wonderful imagery to really help capture our audience and bring the brand to life further, building on what we currently have and putting the customer at the forefront of everything we do.
What's your favorite fashion trend?
There's something about androgynous style, that I can't seem to keep away from, structured and somewhat oversized…that probably sums up my wardrobe pretty well.
What does a day in the office look like for you?
Busy. Busy. Busy. It really can vary and is very dependent on the point in the season. At the moment, we are moving away from sale and gearing up for our AW launch, there's a lot of planning, heavily around marketing and strategy for this, there are a lot of meeting around ideas, budgets and lessons learnt from previous seasons, all of which wouldn't be feasible without a wonderful team!
How long have you been with Harvie and Hudson?
Just shy of two years, the time really has flown, and the company has seen some wonderful transition and growth, it's a really exciting time.
What's one fun fact about you?
I have a weakness for cheesy pop and all things 80's.
Leave your comment
Your email address will not be pulbished. Required fields are marked*