GET FREE UK DELIVERY UNTIL 21ST AUGUST
- Terms apply
ENJOY TAX FREE SHOPPING ON INTERNATIONAL ORDERS INCLUDING EU
Blue Textured Linen and Wool Jacket
Product Details
BLUE TEXTURED LINEN AND AND WOOL JACKET
If you prefer a more conservative style rather than making a bold statement with lots of colours and prints, then this textured one coloured jacket is the one for you. This men's jacket is perfect for parties, sit down dinners or special occasions.

This beautiful jacket is made in a classic fit cut, which makes it comfortable and easy to wear. It's cut generously through the chest and waist, but still maintains a clean body shape. It is a luxury jacket made from 60% linen and 40% wool. This combination is perfect for warm weather.





Fit: Classic


Colour: Blue


60% Linen 40% Wool


Two Corozo Buttons


Notch Lapel


Twin Vents


Two Straight Pockets



Every Harvie and Hudson piece is carefully constructed with attention to detail and created to last.

For longer use of your product, please follow the below recommended instructions:
Dry Clean only
We know that it can be difficult to get the right fit when you are buying your perfect outfit online. That's why when you purchase from Harvie and Hudson, you will receive all the paperwork required to return any unwanted goods back to us for a full refund. So, when you receive your clothing from us, simply try it on, and if you're not happy, pop it back in the bag and send it to us for a Refund within 14 days of receiving your goods. No worry, no fuss.
For more information on returns timescales, faulty items and when you can expect your refund to be processed, View our Refund and Returns Policy >
Please note:
► We do not currently offer free returns.
► To exchange an item, please return it to our department and place a new order.
Below is our UK delivery options: Click & Collect - Free
Standard Delivery - £6.50 - Free when you spend over £150
2-3 working days Next Day Delivery - £8.50
1 working day when ordered by 3pm Same Day Delivery - £11.50
Order by 2pm To find out more about our available delivery methods such as our overseas options, pricing and timescales, please refer to our delivery page where you can find out all available options, along with all other delivery related questions.
For more information, please see our Delivery Section >
Have you got a question for us? Check if this has already been answered in our FAQ section.

You can find out more about what kinds of payments we accept, information on duties and taxes, click and collect and much more.

If your question has not been answered in our FAQ, feel free to use the contact form and someone will assist you with your query.
View our FAQ's >
For more information about our sizing, and how to measure, view the link below:
Size Guide
Blue Textured Linen and Wool Jacket
By
Stephen Dalton
, 27 Mar 2021
Good quality and well made jacket . Fit is more slim than classic, so comes up a little tight. Great style and colour texture.
Explore The Detail
Every component of a Harvie and Hudson item is expertly crafted with superb attention to quality and detail. Created with the technical skill only a shirtmaker could have, with unique specifications in mind.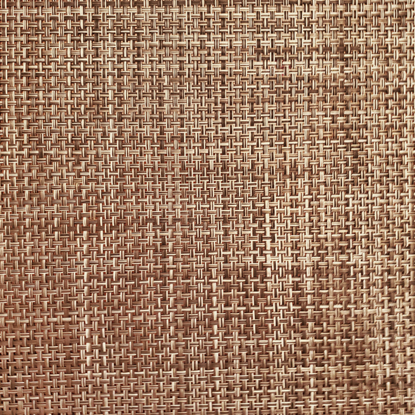 Made from Linen
One of the strongest natural fibres, this highly absorbent and breathable material is perfect for warmer climates. It's both strong and durable and will keep you feeling cool all day.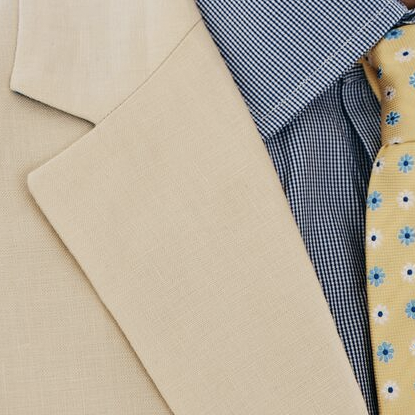 Notched Lapels
A respected style of lapel that is found in both traditional and contemporary suiting. Its versatile nature makes it a common detail for ready to wear tailoring.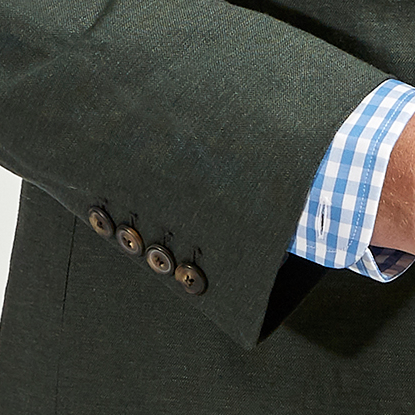 Working Buttons
Traditionally seen in bespoke tailoring, functioning buttonholes are a marker of quality and attention to detail.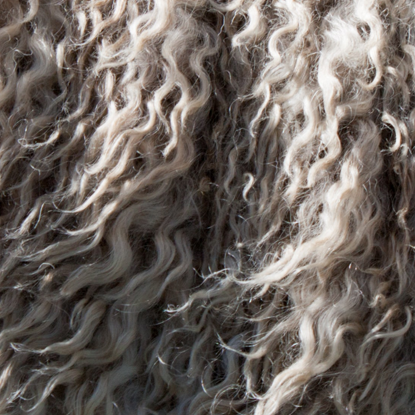 Made from Wool
Breathable and durable, our luxurious wool material can be used in any climate and is easy to care for. This natural fibre looks and feels great on.