GET FREE UK DELIVERY UNTIL 21ST AUGUST
- Terms apply
ENJOY TAX FREE SHOPPING ON INTERNATIONAL ORDERS INCLUDING EU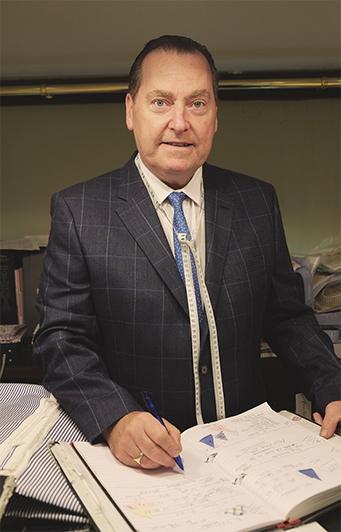 We had the opportunity to recently catch up with Kerry, our Shirt Cutter, to gain an insight to what life has been like delivering decades of our made to measure and bespoke service.
Tell us a little bit about yourself?

I have been in the business for 40 years now, I started when I was just 17 as a shirt-maker and at the time I was one of 8 shirt-makers. It's what I am most proud of, Shirt-making is a part of me.


What got you interested in shirt-making ?

My uncle was already working within the company as a shirt-maker and it was through him that I was able to get into the business. Prior to the role, I did not have any experience of shirt-making and although there wasn't an official 'apprenticeship', there was an apprenticeship set out for me. My job initially was to re-collar and re-cuff old shirts. For instance, we would have customers who had their shirts for over 5 years and would bring them back for new collars and cuffs. It was there where I began my shirt-making journey and since then I have never looked back.


What is the process for constructing a shirt ?

It's a very complex process, but to put it simply, there are 3 essential elements that need to be in place to create a shirt successfully. The shirt needs to be made from quality fabrics, it needs to fit well, and measurements must be taken down correctly.


What is the difference between made to measure and bespoke ?

Made to measure is what the store will offer you, bespoke is what the customer wants. When a customer requests for a made to measure they will be offered a range of collars and a range of cuffs to choose from. Whereas with bespoke, we design a pattern that fits around what the customer wants, the customer has the freedom to design the collar and the cuff.


You attend bi-annual trunk shows in the US, would you say the style overseas differs from your UK clientele?

No, there is no real difference. I think the overseas clientele like the English style. Jermyn street is the home of English style, therefore customers who come to our trunk shows, have come because they like the style of the brand and they want to go a step further and have something made to their measurements. Our customers in the US trust us with their shirts because they want to experience our Heritage and they are confident that we can provide them with the best experience possible.


If you could create the perfect shirt, what would it be?

I don't think I could imagine the perfect shirt. However, to me, it's really all about the customers overall satisfaction and being able to create a shirts that not only fits the body but the mind of the customer. The perfect shirt is when the customer is content and leaves the store with a smile on his face.


What excites you most about your job ?

After all these years I still enjoy what I do, it's really all about seeing a customer who is happy about a shirt that was made and leaves highly satisfied with the service.


Tell us an interesting fact about yourself ?

I'm a big football fan!
Leave your comment
Your email address will not be pulbished. Required fields are marked*